The Ministry of Planning & Development (MPD) in collaboration with the Ministry of Trade and Industry (MTI) is developing the Automated Construction Permitting System, branded as DevelopTT. DevelopTT seeks to address the deficiencies of the current manual construction permitting process by providing an online user friendly system in which applicants can submit and track applications in a reduced time frame with streamlined procedures. The General Objective of this Consultancy is to integrate Esri's ArcGIS Enterprise solution at the Town and Country Planning Division (TCPD) with the Automated Construction Permit System (ACPS) referred to as the DevelopTT Platform. Please see below for further details.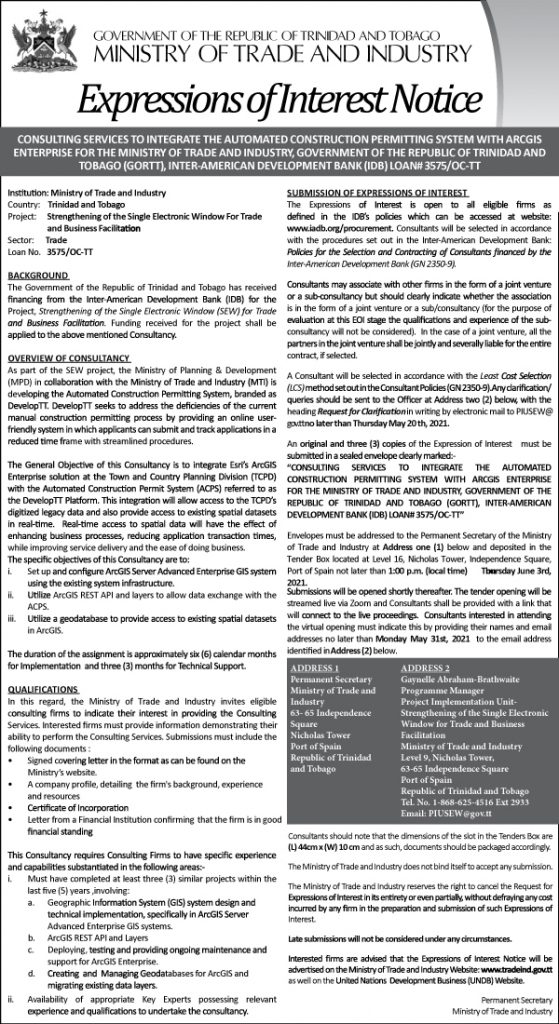 Expressions of Interest (EOIs) must be submitted using the Standard Forms for Consultant's Curriculum Vitae and Submission Letter which can be downloaded at the link below:
Please click here to download the Standard Forms.
Click here to download EOI Advertisement
Expressions of Interest: Consulting Services to Integrate the Automated Construction Permitting System with ARCGIS Enterprise